"On his business card, he's the Corporate President. In his mind, he's the game developer. But in his heart, he's a GAMER."
Satoru Iwata is Gone. The Current Nintendo President and CEO passed away at 55 because of his Medical Surgeries since he left E3 2014. He's the Person who announces Brand New Games during Nintendo Direct Presentations, E3 Press Conferences and other Gaming Related Events. He always understands many lessons to the audience. He gives us Happiness to People. Therefore, He's the Gaming Legend.
I would like to inspire him because He's great at creating Video Games from his Mind, Memories and Imagination. My Dream is to become a Video Game Developer like him. His Creations are also my Inspiration, Too. My Biggest Wish is to become the First Female Global Nintendo President. I wrote my dreams on a Sheet of Paper for our Essay at Filipino Class last year, and My Filipino Teacher Amazed me about my Dreams. I would want to reach for the Stars and I'll Promise to do my Best. My Future Plans of being the First Female Nintendo President is to improve their Nintendo Franchises, Their Consoles including Nintendo NX, Amiibo, and their Audience's Interests.
My First Nintendo Game I've Played is Super Mario Bros., but My Childhood is Amazing. Iwata brings all the Childhood Memories for Us. I'm a Nintendo Gamer since Birth, and My Brother and I love playing with Game Boy Advance. Nintendo can make Childhood Memories for everyone, with Iwata as the Leader. I would like to Thank Nintendo for the Opportunity in Video Games.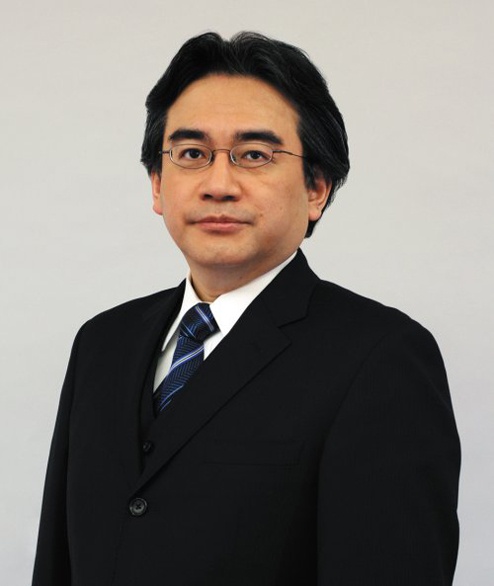 He started as a Game Programmer for HAL Laboratories and he helps to develop games like Super Smash Bros., Kirby and Pokemon. Afterwards, He Became a President of HAL Laboratories and later, The Global President of Nintendo. While he took the Role as a Leader of the Gaming Industry, He worked on Several Game Franchise such as Super Mario, The Legend of Zelda and Animal Crossing. He also Announced the Nintendo DS and Wii, even The Wii U and 3DS. He can also manage the Finance of the Company.
Iwata is Kind, Friendly, Industrious, Intelligent, and Thankful. During Nintendo Direct Presentations, He is often Humorous. He Often Understand and Looks to the Audience with a Smile. He can be the Star of the Company, and He can do everything for it. And Now, The Nintendo President and CEO is Gone. We can inspire him and his Developed Games. He's in Heaven, and He gives one last gift for us: The Colorful Rainbow, which is the Symbol of his Life Story.
As I Read the Article last Monday Morning after waking Up, I was crying in behalf of Him. My tears were falling down like Crystals – The Symbol of Pure Happiness for Iwata. I felt emotional because of him. He makes excellent games for everyone. He makes us Happy, Too. Sadly, He's passed away. Surely we will miss him a lot. I'm an Avid Supporter of Him.
My Condolences and Prayers will go to himself, His Family and Friends, Mr. Shigeru Miyamoto, Mr. Reggie Fils-Aime, and to The Men and Women of Nintendo. It's So Sad that He's in Heaven with God. Thank you for giving us the Best Games for the People, Iwata. You're the Outstanding Person to Believe. I want to thank the People from Nintendo for supporting him as the President since 2002. You've won the Gratitude by our Hearts. In Japanese, Nintendo means "Leave Luck to Heaven", and Good Luck will be Happen sometime in the Future without Iwata. He never gave apologies, but He Brings the Aura of Life. As of Now, He's always in our Hearts as the Ambassador of Gaming. The Nintendo Leader still believes that Creativity and Imagination changes the Memories of a Gamer. Thank you for Inspiring me of who we are. This is our One Final Goodbye for the President and CEO of Nintendo. We Miss you. We Love you so Much. Condolence.