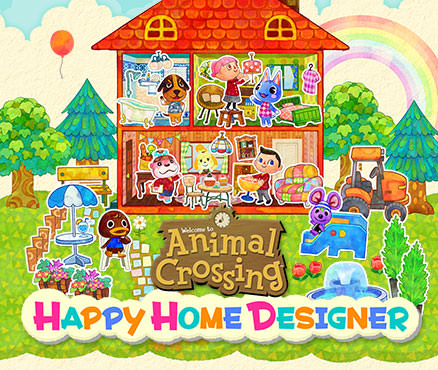 Yesterday in Filipino Class, My Teacher is having a Discussion and Lecture for Plays. She Told Us to Make Plans for the Upcoming Events for This Month of August. The School is celebrating Filipino Month and I'm Really Excited for it. One of the Main Activities is Room Decorating. The Teacher needs us to Decorate our Classroom so The Filipino Department will Amazed by our Creativity. I Love to Decorate with Crafts and Rooms.
Wait, Does it Remind Me of Animal Crossing: Happy Home Designer?
Yes, Indeed! The Upcoming Animal Crossing Spin-Off is Like the Main One but The Main thing is All about Creativity and Imagination. Your Role in this Game is A Room Designer where Your Fellow Villagers are Taking Requests for you and Take the Challenge. You may pick their Furniture, Wallpapers, Floors, Decors, and More. Plus, you can Also Design Many Establishments like Schools. It is like a Time Management and Strategy Game. At the End of their Task with a Perfect Request, He or She will Love your Design. Isabelle (My Favorite Female Character), her Twin Brother Digby, Lottie, and the Decorating Team will assist you on your Quest.
For the First Time in this Game, There are A New Kind of Amiibo Cards. Scan the Cards and You will get Additional Decoration Content. You may Also Use your AC Amiibo Figures, Too. Amiibo Cards are Also Used in Another Spin-Off Game, Animal Crossing: Amiibo Festival, which will release this Holiday for Wii U.
The Japanese People Loved the Game since the Release Yesterday. It's So Cute! While I'm Waiting to Get this Game, I will Play Imagine: Interior Designer. It has the Same Gameplay with Happy Home Designer.
So Our Filipino Teacher decided to do this Room Decorating Activity for this Month and We're Getting Ready to Plan. Just Imagine… If I am Isabelle, I would talk my Teammates about the Decoration Process. We Are Also Sharing our Big Ideas. The Teacher Chose a Special Theme to promote our Country's Culture. The Filipino Department (which consists of A Group of Filipino Teachers from Grade 7-10 in our School) and Our Principal will give a Critique for our Design. I guess it would be Happen!
Animal Crossing: Happy Home Designer will be released on September 25 for North America and October 2 for Europe exclusively for Nintendo 3DS.